Dub Music Player - Audio Player & Music Equalizer
4.11
Audio Player – Play Music in High-Quality Stereo Sound
If you like listening to music in high-quality stereo sound then this audio player is a must-have for you. Dub Music Player – Audio Player & Music Equalizer is a cool app that lets you play your favorite songs no matter which audio format they are in. It allows you to turn up the loudness of the music as high as you want while ensuring that the sound doesn't lose its quality. There is an equalizer feature available that enables you to make changes to the sound of the music being played. You can either choose one of the many available presets for the music equalizer or create a preset of your own. There are options provided for boosting bass and virtualizer as well.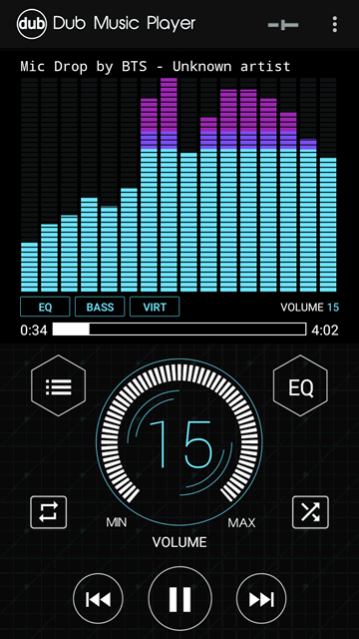 Dub Music Player – Audio Player & Music Equalizer has an elegant user interface that is very welcoming and pleasing to the eye. There are multiple themes available that add to the visual appeal of this app. The intuitive design and layout of this audio player make it easier to navigate for just about everyone. When you launch this audio player, it immediately asks your permission to scan the device for audio files. Once you have given the necessary permission, it rounds up all the audio files you have stored on your device. The audio files will be listed down randomly at first. You can sort them out using a variety of sorting options, though. Aside from this song list, you will find other tabs as well that have the music files arranged according to artist, genre, and album.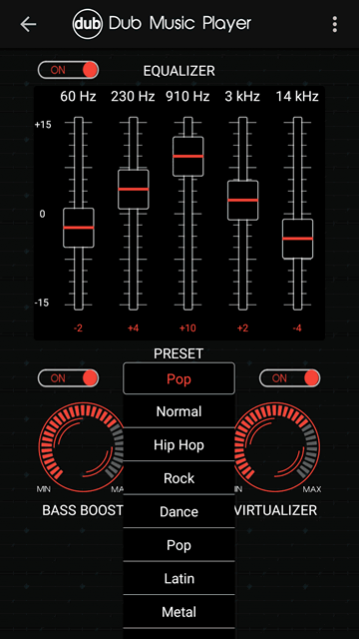 This audio player is capable of playing audio files in all the major formats. Moreover, it has a music equalizer that comes with various presets. You can use these presets to make changes to the sound of the songs you are listening to. If you want to make the changes yourself then you can choose the custom preset and move the bars provided on the equalizer in the upward or downward direction. Once you are satisfied with the sound, you can save the custom preset so that it can be used for other songs too. In addition to the equalizer, there is a bass boost and virtualizer option available too. However, you need to turn them on if you wish to use them.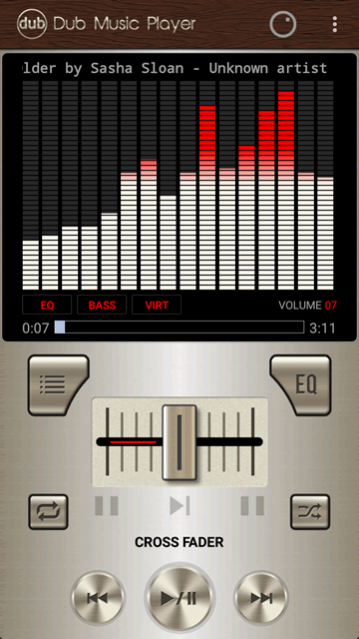 Dub Music Player – Audio Player & Music Equalizer also provides a crossfader feature to you. This feature allows you to mix two different songs. You can set the crossfade timer located in the Settings menu to make better use of this feature. You get to increase or decrease the loudness of your songs in this audio player too. There are multiple audio enhancement options available in this app. You can find the audio enhancement menu by clicking the button located at the top-right corner of the home screen and then choosing the audio enhancement option. In this menu, you will find options like loudness, pitch, and balance. You can tune these options to enhance your listening experience.
Features:
Elegant user interface
Intuitive design and layout
Scans device for all types of audio files
Capable of playing audio files in multiple formats
Eye-catching sound spectrum graphic equalizer
Audio enhancements available for enhancing your listening experience
Many presets on offer for music equalizer
Chance to create your custom presets
Crossfader feature for mixing two songs
Lots of media player themes to choose from
Various customization options available
Conclusion:
Dub Music Player – Audio Player & Music Equalizer is an app that is marketed towards people who love listening to good music. It provides them the opportunity to listen to songs and audio files in multiple formats in stereo quality sound and also offers features like audio enhancement and music equalization. It is a nice audio player and you should have it on your phone.
---
Add a review
Tell us your experience with
Dub Music Player - Audio Player & Music Equalizer
4.11
RELATED PROGRAMS
Our Recommendations
---
---
---
---